Building the Modern Accounting Firm
Written By: Gary Shamis, C.E.O., Founder & Principal of Winding River Consulting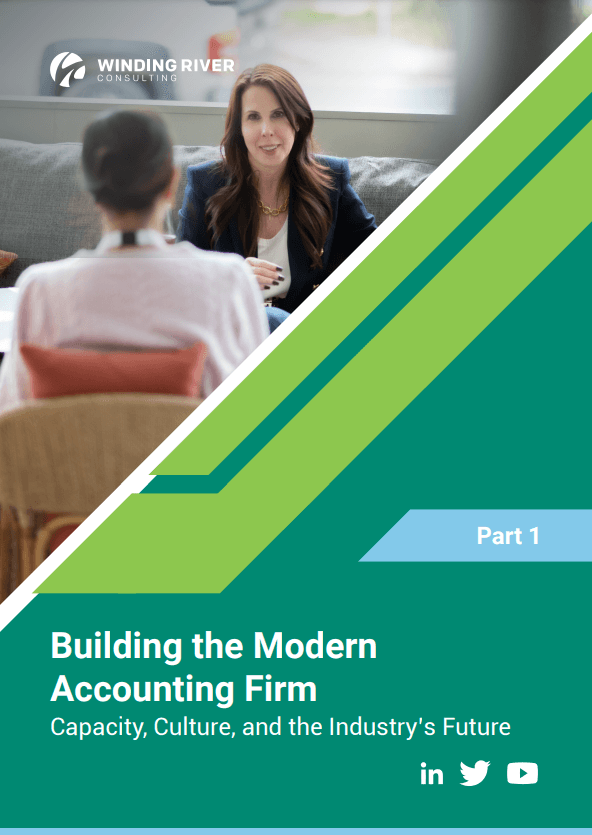 Are you building a firm that will thrive in the future, or are you holding on to the past?
The accounting profession is facing a major reckoning and your firm's ability to evolve and thrive is key to its sustainability. Driven by the nature of competition and technological advancements, the accounting profession is at a crossroads. Firms that fail to adapt to the ever-changing landscape risk being left behind with little opportunity to catch up, while those that embrace innovation and transformation stand to thrive well into the future.
Time is of the essence. The future begins now! It's time to take action to ensure your firm is prepared for what lies ahead.
In this three-part eBook, we explore:
Building Firm Capacity - Without People
Culture Wars - Navigating the Culture Shift
The Erosion of the Partnership Model - From Partnerships to Corporations
Download this exclusive three-part eBook to discover the steps you can start taking today to build a better future for your firm. Each edition will be emailed separately over 3 weeks.
The ONLY place to get these insights from Gary, David and Winding River Consulting is HERE.